Money earned by your music accumulates over time, and your current Available Balance is viewable in the Sales + Payments section of your dashboard.
Once you have earned your first $10 of revenue, you can request to withdraw your current Available Balance by clicking "Request Withdrawal" in the Sales + Payments section of your Dashboard.
To be paid out, you will first need to set up your Level Wallet, and you will only need to do this once. Your Level Wallet is powered by Hyperwallet, a payments processing company owned by PayPal.
After your first withdrawal request is approved, expect an email that will prompt you to set up your Level Wallet (see the screenshot below).
Click the "Activate" button in the email, log in using your Level account email and password, fill out the necessary fields, and enter your preferred external payment method.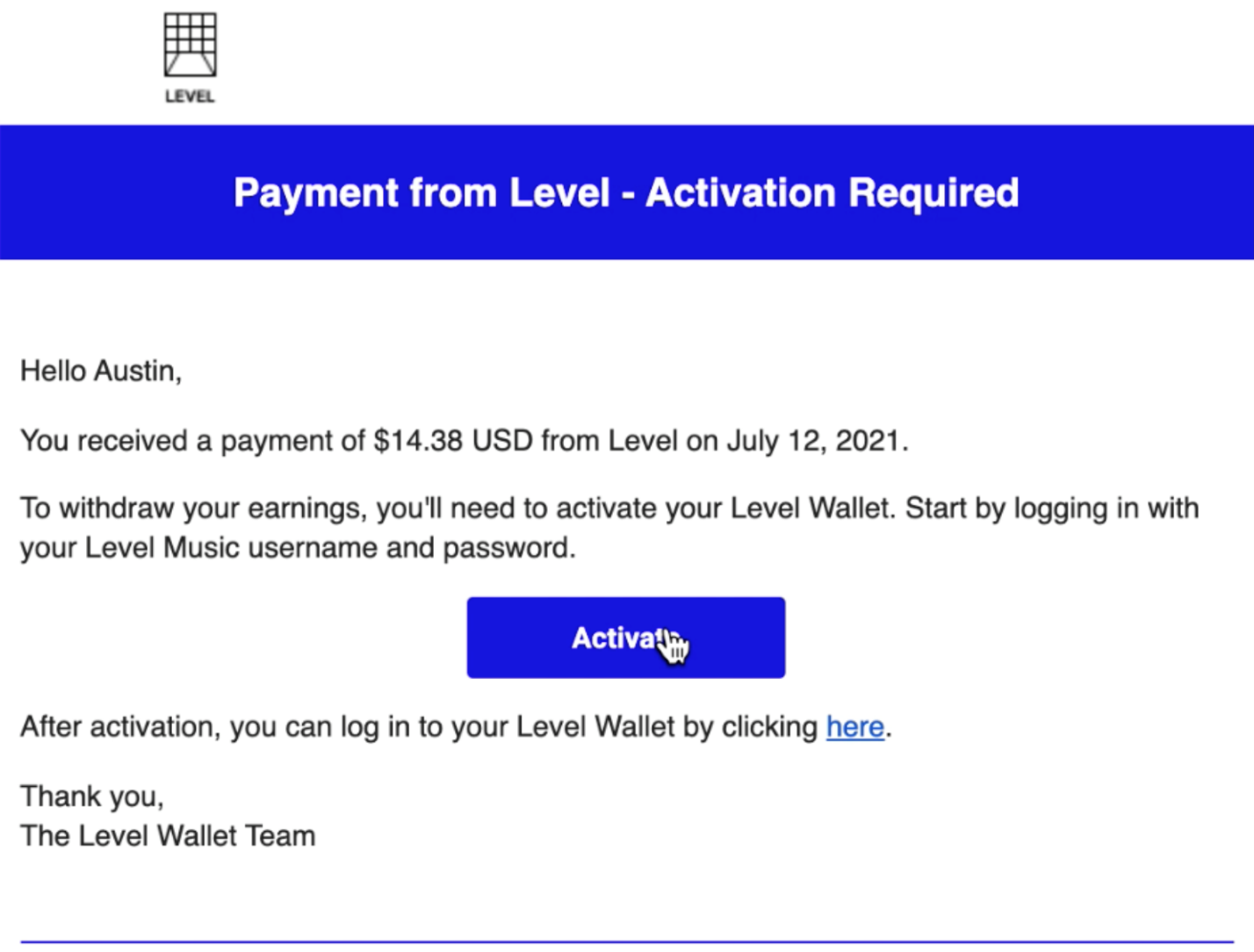 As part of the setup process, you will need to verify your tax information. Please reach out to Hyperwallet Support for any questions about tax verification; Level is unable to assist with any tax verification-related inquiries.
Please note that if you are under 18, you will need a parent/guardian to complete the process on your behalf.
Once your Level Wallet setup is fully complete, the funds from your first withdrawal request will be automatically deposited into your Level Wallet.
As part of the setup process, you will have the option to set up "Auto Transfer" if you want Hyperwallet to pay out funds to your external payment method automatically. Otherwise, you'll need to request payouts from your Level Wallet manually.
After this first payout has completed and you have earned more money from your music, you'll be able to request the withdrawal of your Available Balance at any time from the Sales + Payments page.